See the Colternator™ in Action!
Hi, hope you are well,
We've been getting really great responses about our Colternator™ models!
Since we attended the 2015 Boardroom Show in San Diego, CA we created a video to show at the 2015 Surf Expo in Orlando that we just returned from.
Here is the video for you to get a sense of how this Colternator™ model rides.



The Colternator™ surfboard model you see in this video is the All Around Colternator™ with the following dimensions:
Height 5' 6", Width 16 1/2″, Thickness 2 5/8" with a diamond tail.
This All Around Colternator™ Surfboard is:
Great for: Knee high to double overhead waves.
Good in: Mushy, hollow and punchy waves.
Available with a round, diamond or squash tail.
The Colternator™ model surfboards are also available as High Performance and a Super Small Wave surfboards. You can see their dimensions and pictures here on our "Surfboards" tab.
If you are interest in getting a free estimate on a custom one for yourself, click here on our "Getting Started" tab.
If you are a surfshop and would like to carry either our Colternator™ models or our Classic models, you can view images of our boards here on our "Surfboards" tab and then head over here to our "Surfshops" tab.
Here's what just a few people are saying about the NEW snowboard-inspired surfboard!
"Really responsive after take-off! Hugs the waves great!" – Conor O.
"Awesome quick!" – Hamel M.
"Really easy to catch waves! Great unique turning experience!" – Urip D.
"Super easy to maneuver!" – Gary C.
"Really like how it drops off on the sides, smooth transition!" – Lance B.
"Really impressed! Stoked how it turns! Super fun, I was really blown away!" – Stephano P.
See you in the water,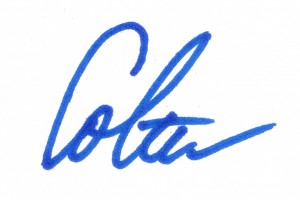 Colter Deupree
Shaping surfboards to fit the rider and the wave.
Colt Surfboards, LLC
P.S. Don't miss out, stay in the loop to find out when we are going to be in your town next for demo events!