Getting Started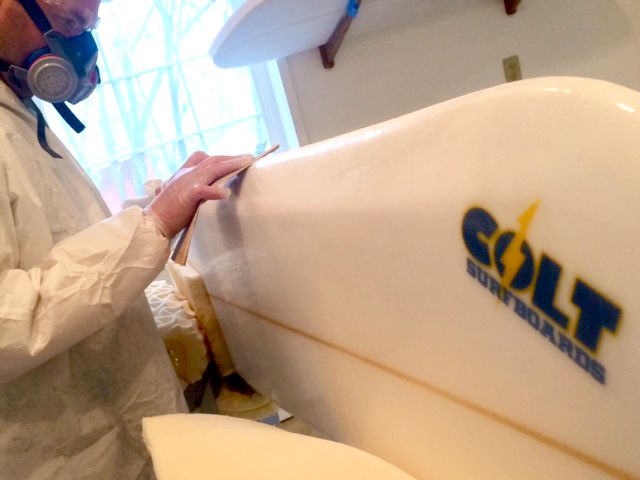 Whether you are completely new to surfing, a beginner, intermediate or advanced surfer, your board will be completely custom made for your height, weight, ability, wave conditions you will be surfing in and location.
I specialize in fishes, small wave boards, short boards and fun boards.  If you are new to this and don't know what that means or what board you need or want, don't worry we'll take care of you and get the right board for you.
The process to getting your board shaped is pretty simple. 
In order to get started and provide an estimate I'll need some details which you can either email to me, or call me with, whatever is easiest for you. It usually won't take more than 15 minutes to get the basic details.
Don't worry, by submitting the "Details for my Board" estimate form you are not agreeing to purchase, just getting an estimate.
Enter your name & email below to receive the link to the form straight into your inbox to fill out and submit (no need to scan, email back or fax anything).
Once you fill out and click submit then I will reply within 24hrs, Mon.-Fri. to discuss your estimate.

Or
you can call me at 503 – 207 – 4829  to set up a time to go over the questions via the phone.
Materials

The blanks & resin (a blank is the product your board gets shaped out of and resin is the material used to seal the blank when done) that I work with are
PU (Polyurethane) foam with Epoxy Resin  or Polyester resin
EPS (Polystyrene) foam with Epoxy Resin  
I personally prefer to work with Polystyrene foam & Epoxy Resin because these materials are more environmentally friendly, more buoyant, lighter and last longer.
However, depending on where you will be surfing the most and other conditions you may be better off with a PU board and Polyester resin. We can determine that when you submit your form or call us.
Investment:
What will make the main difference is the type of product you would like your board to be made out of.
The range of investment for your board can fall between $350.00 and $700.00.
Be sure to check with me, I may have a couple of used boards that may work for you if you are looking for a lower investment.
To officially start shaping your board you would need to approve and submit our final "Get Shaping" work order along with half of the total investment on your order.
A few of the best things about having a board shaped for you is:
– It will cost less then buying whatever a big company decides to put out there
– It will be specifically designed for you and the waves you want to ride
– The satisfaction of having the right equipment will be reflected by the high level of enjoyment you'll get out of it.
Guarantee:
If you aren't in love with the first board that I've shaped for you, I will take the board back and shape you a new 2nd board based on your specific feedback from the first one. This rarely happens that's why I can offer this guarantee.
Submit your name and email below to receive your form to start the estimate process. It costs nothing to get an estimate. No commitment until you approve the estimate and submit your 'get started' deposit.

Or
you can call me at 503 – 207 – 4829  to set up a time to go over the questions via the phone.